Description
Released on June 29th 2016, 'Watford Mishmash – The History of Watford Football Club in One Image'.
Since beginning Watford Mishmash in July 2015, I estimate that I have spent over 1000 hours creating this image… the things you do for your club!
Your Watford Mishmash poster is 69cm (height) x 99cm (width) and is printed on 170g high quality paper with a gloss finish.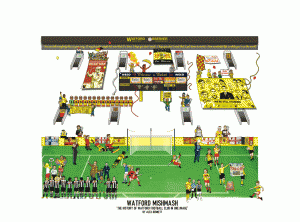 Each print will be hand signed by it's creator Alex Bennett in the bottom right hand corner.
A checklist of everything that has been included within the illustration fills the border.
'Watford Mishmash' has been produced with permission of Watford Football Club.
If you're looking to frame your print, there's a www.therange.co.uk store on St Albans Road in Watford where you can pick up a 100 x 70 cm frame for just £12.99. You can also order it online here… http://bit.ly/2967j6F
A percentage of each sale will be donated to the Peace Hospice.