Thanks for taking a moment to view my work!
In 2013 I created my first 'Mishmash'. The idea was to depict the History of Football in one highly detailed image portraying memorable events within the sport.
I draw all characters individually using the medieval technique of pencil and pen before using Photoshop to colour the images. I would then position the individual illustrations onto the main image, in effect, like putting together a giant jigsaw!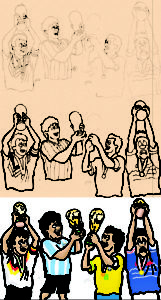 Since completing 'Football Mishmash', I have gone on to create a further seven images, each focusing on a different subject. Each 'Mishmash' takes approximately 1200-1500 hours to create over a period of 6-9 months.