Description
Released on June 29th 2016, 'Watford Mishmash – The History of Watford Football Club in One Image'.
Since beginning Watford Mishmash in July 2015, I estimate that I have spent over 1000 hours creating this image… the things you do for your club!
Your Watford Mishmash poster is 69cm (height) x 99cm (width) and is printed on 170g high quality paper with a gloss finish.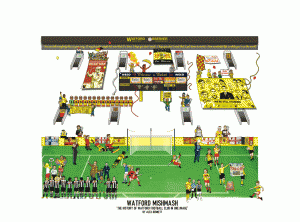 Each print will be hand signed by it's creator Alex Bennett in the bottom right hand corner.
A checklist of everything that has been included within the illustration fills the border.
'Watford Mishmash' has been produced with permission of Watford Football Club. It has even become a huge mural in the concourse of Vicarage Road Stadium's Family Stand!
If you're looking to frame your print, you will require a 100cm x 70cm frame. Although not exact, they are the best option if you don't want to spend a fortune on a bespoke frame. They are widely available.